Today was a decent day for a Tuesday. I got up on the right side of the bed and even though it was hard, I was only a little late this morning.
I was told today that I looked good by more than one person, which was unusual. I broke out a skirt and a silk shirt I got at the Talbot's Outlet last weekend. Maybe if I put make up on, it might have been even better. Baby steps in the right direction.
Before I went to the Talbot's Outlet, I stopped at Target. I like to roam around Target but I was a little annoyed this time. They have the Maternity and Plus Size sections next to each other at most of the Targets in my area. That is fine. When I went to look for clothes in the plus size area, all I could find were men's clothing. Racks of men's shorts, shirts, underwear, etc. There was a rack or two on opposite sides of the area with plus size clothing but it was not clearly marked and hard to find amongst the maternity clothes. What is up with your plus size department Target?
I have decided to join a Sisterhood of the Shrinking Jeans challenge. May will be my way.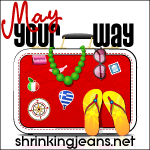 My goal is to go 30 days binge free.
I am traveling this summer so I like the idea and I like that I can choose my goal. This is something I can do and will help me. Today I have been binge free.