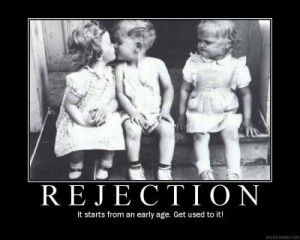 I think I have trained my brain to expect rejection. That I have been hurt before so why not just think it is going to go wrong because then I won't be so hurt. Unfortunately, I am still hurt a lot of the time.
Oh, I am not going to talk to him, he thinks I'm ugly or why bother asking so and so for something because it is just going to be no. It is a mindset I get stuck in and I am not sure how to get over it.
Has anyone actually changed the way their mind think about this?
It goes along with being told I have to be a "glass half full person" at work. I expect to get screwed so when it happens, it is easier to take. I think the worst is going to happen and well, it does, especially when I think of my family.
I have tried to think "Oh it's going to be a wonderful day!" then someone elbows me in the chest on the subway. I also know people who have read or seen "The Secret" and that they probably say I get what I get because of it.
Self protection mechanisms are a lot of things but not self protecting!